By Chelsea Diana, Reporter for the Albany Business Review
Steve Wightman, CEO and founder of BuildPay in Troy, New York, is building the financial tech company up again after his family received the shock of their lives last year.
Wightman, who spent 30 years in construction, had recruited his family to join his startup, BuildPay. The company was created to make it easier for construction projects to manage payments, transactions and expenses with an electronic payment system.
Soon after BuildPay raised $3 million in angel funding last year, Wightman's daughter, Leah Hennessey, was diagnosed with acute myeloid leukemia. It was a shock for the Wightmans. At the time, Hennessey was working at BuildPay as director of geographic information system development.
Hennessey, an avid runner and former Division I athlete, was feeling sore after a run, Wightman said. They took her to the hospital, where she was diagnosed with leukemia. She started chemotherapy a few days later. Her white blood cell count was at 160,000, Wightman said, when the normal count is less than 12,000.
To seek treatment at Roswell Park Cancer Institute, Hennessey and her parents moved from Syracuse and Chatham, respectively, to Buffalo. It took Wightman away from the business for months. In Buffalo, Wightman would take business meetings in the waiting room, in hospital hallways and anywhere else he could.
"I think it hurt the business, but it didn't seem it at the time," Wightman said. "Promoting the business without me, the leader, suffered."
Wightman said investors, including the Marsh & McLennan-owned company, Guy Carpenter LLC, stayed supportive during Hennessey's hospital stay. They even donated to her surgery.
In May 2016, Hennessey got married. That June, she received a bone marrow transplant from an unrelated donor in Brazil. Since then, she's recovered and gone back to work at BuildPay in product development.
Hennessey is one of 12 employees at BuildPay today. The company, based in the Rensselaer Technology Park in Troy, is hiring hardware/software developers, according to its website.
The office has the typical startup setup, including mismatched chairs. The conference table is made from a door at Llenroc, the mansion built for insurance tycoon Albert Lawrence in Rexford, which Wightman helped build.
Wightman said BuildPay has raised another $2.5 million in funding from investors introduced by Guy Carpenter.
That will help build the business this year, as Wightman is focused on getting 12 projects to use the financial payment system. That includes a $100 million construction project in Wisconsin.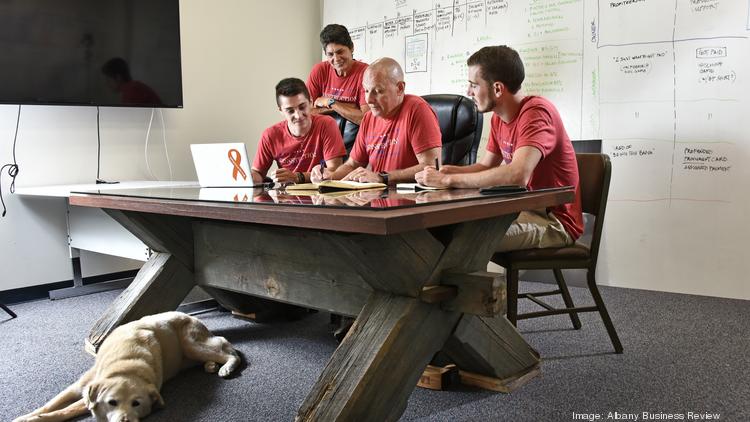 BuildPay's system is built on a cloud-based platform that can be accessed from mobile phones and desktops. Wightman said it simplifies the sometimes complicated payment process by connecting everyone in the construction chain.
The company has two patents pending, Wightman said.
The biggest supporters are material providers and subcontractors, Wightman said, because it allows them to be guaranteed payment, making construction move more quickly, and under budget. BuildPay charges a transaction fee, paid by whoever funds the project, on money used to pay for work and materials.
The end result is no liens. Wightman said that construction has the longest accounts receivable list of any industry.
"A lack of capital often puts construction at least a year back," Wightman said.
He said the interest in BuildPay stems from its potential to reduce reconstruction cost and time following hurricanes, wildfires, tornados and other catastrophes. He's built relationships with insurance companies and materials providers in the event of a disaster.
Wightman was inspired to tackle this problem in 1992, after working on the rebuilding efforts following Hurricane Andrew. He saw then how little access there was to needed capital.
He said the company is pre-revenue. BuildPay is in process of setting up the system with seven insurance companies. Wightman is also talking with construction lenders, mostly regional banks, about what they look at when evaluating projects.
Wightman sees the technology being an asset for minority- and women-owned businesses to get access to money faster, which is important because these businesses often find it more difficult to get a line of credit.
Article Source: https://www.bizjournals.com/albany/news/2017/07/31/entrepreneur-refocusing-on-construction-tech.html